Checkout The NW page on Facebook: North West Zone

The ZONE AGM will be held on Monday 20th April in the Recreation Club, Killane road at 8pm.


LIMAVADY AND DISTRICT LEAGUE ANNUAL DINNER AND PRESENTATION OF PRIZES WILL BE HELD IN THE DRUMMOND HOTEL BALLYKELLY ON FRIDAY 24TH APRIL 2015 AT 7.30 PM
DINNER SERVED AT 8.00PM SHARP.
ADMISSION BY TICKET ONLY (NO EXCEPTIONS)
TICKETS £11.00 EACH ALL TICKETS BOOKED MUST BE PAID FOR
IT IS HOPED THAT ALL CLUBS WILL SUPPORT THIS SOCIAL EVENT ESPECIALLY CLUBS WHO ARE RECEIVING CUP OR SHIELDS TICKETS AVAILABLE FROM J PINKERTON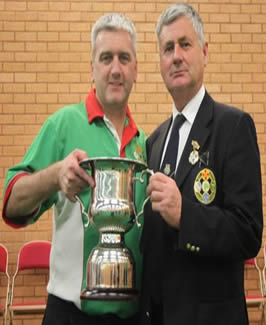 Ryan O'Neill made history by winning the British Isles Singles Title to complete and add to the three other British Isles Titles which he already holds in pairs triples and fours.
Well done Ryan.